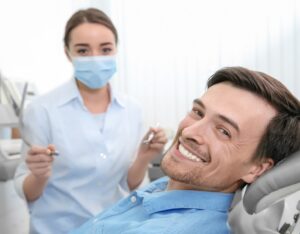 Most toothaches are caused by cavities, but sometimes the cause of a toothache isn't obvious – at least, not to a non-dentist. That can cause some anxiety, in addition to tooth pain. If your toothache is an emergency, remember the team at OnCall Dental in Fresno is here for you.
The pulp inside teeth contain nerves that are some of the most sensitive in the body. That's one reason why toothaches can be so painful (and why we numb you before most dental work). When these pulp nerves are infected the pain level can really go off the charts.
Get Help!
Sometimes toothaches will get better on their own. Such minor toothaches can be caused by gum irritation that responds to simple home treatment, like rinsing with warm salt water. But more serious toothaches absolutely require the attention of a dentist.
Teeth with infected pulp, fractures, damaged fillings,  or are worn from teeth grinding should be treated by a dentist. You can find temporary relief at home by rinsing, or with a cold compress, or pain relievers. People have even found short-term relief with clove oil (dabbed on with a cotton swab). But you'll need professional treatment – the sooner the better.
Most toothaches won't get better without proper treatment. At OnCall Dental in Fresno and Hanford we treat treat toothaches, including infected and abscessed teeth. Remember, walk-ins are always welcome!
Contact OnCall Dental (Tap to open in Google Maps):