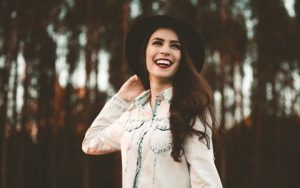 You can fix your cracked or damaged teeth without breaking the bank. At OnCall Dental – Fresno, our patients with injured or damaged teeth frequently receive dental crowns to restore their smiles.
Dental crowns serve a variety of purposes. They help support fillings and attach bridges, protect weak teeth and cover dental implants. Crowns can also cover up a misshapen or discolored tooth. They serve so many purposes that we find ourselves performing crown placement procedures often and with lasting success.
During the dental crown procedure, your dentist will remove the outer portion of your tooth and clean out any decay. This allows room for the crown to be placed. Then, your dentist makes an impression of your tooth for the permanent crown. You will wear a temporary crown while you wait for the permanent one (usually no longer than two weeks).  We recommend that you avoid sticky foods and brush gently while you have your temporary crown.
Pain in your teeth or mouth is not normal. Don't wait to schedule a dentist appointment if you've recently suffered an injury or have persistent pain. Our emergency dentistry services are available 24 hours a day, 7 days a week for your convenience. Call us right away at 559-900-2332.
Contact OnCall Dental – Fresno: 559-900-2332