There is no such thing as a dental problem that gets better on its own. Unfortunately, it just doesn't work that way. But some problems are more serious than others, and demand the sort of immediate attention available at OnCall Dental in Fresno.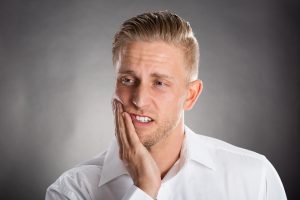 How do you know whether your dental issue is an emergency, or something that can wait? Our short answer is that it is always better to err on the side of caution. More to the point: there are certain problems that should never wait.
Pain When Chewing. If the simple act of eating is painful, that is a big red flag. There are different reasons why chewing can be painful. It may be a crack in a tooth, or similar damage, or it might be a problem with gums or tooth enamel. Whatever it is, don't delay: come see us as soon as possible.
Swollen Jaw. Swelling is a big tip-off that could be a serious infection, also known as an abscess. There will likely be sensitivity in the teeth, or even a fever or bad taste in your mouth. An abscess is serious. Not only will it not get better without treatment, it could spread to other parts of the body.
Bleeding Gums. This may indicate gingivitis, which is early stage gum disease. It isn't necessarily an emergency, though you should never put off seeking treatment. On the plus side, gingivitis is easy to treat. On the negative, gum disease is progressive, so it will probably get worse without professional care.
Chipped, broken, or knocked out tooth. All it takes is a careless moment on the playing field, or even at home, to damage your teeth. A knocked out tooth is easily the most serious of these conditions. If it happens to you, make a beeline to our office. Keep the tooth moist. When treated promptly – an hour or less – the tooth might be saved. Chipped or broken teeth can be treated with bonding.
If you suspect a serious dental problem, time is of the essence. The sooner you see us at OnCall Dental in Fresno, the better. We specialize in emergency dentistry and offer dental implants and other services.  Walk-ins are always welcome!
Contact OnCall Dental – Fresno: 599-477-4553