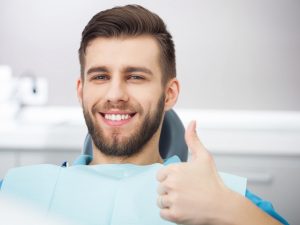 It can happen easily enough: an accidental elbow in the face, biting down on something too hard, or falling – any of these things can result in a chipped tooth. If it happens to you, don't panic: head on over to OnCall Dental in Fresno, where emergency dentistry is our specialty.
Rest assured, there are things we can do to repair your chipped tooth. The treatment will depend on how bad the damage is. Sometimes the tooth chip is so small it can be repaired with an ordinary filling.
Other small tooth chips can be repaired by a procedure called bonding. This is when we use a special composite resin that is shaped to look like a natural tooth. It is hardened with an ultraviolet light. The bonding material matches the color of your teeth, so the end result is all but invisible.
Bonding is a simple enough procedure. It usually doesn't even require numbing of the affected area.
For larger chips, we may use a dental crown. This is especially likely if the chipped tooth has a lot of decay. We'll grind or file away part of the remaining tooth and cover what's left with the crown. This protects the remaining tooth and restores a natural appearance.
In severe chips, where the top of the tooth has broken off but the root remains, a root canal may be necessary. Once the damaged area is cleaned up and prepared, a pin or post is placed in the canal. The surrounding area is built up and covered with a crown. It may take a couple of office visits to complete the procedure.
If one of your front teeth is chipped or even broken, a porcelain veneers may be the best option. Veneers are thin shells of medical-grade porcelain that cover the front surface of a tooth.
If you play sports, we highly recommend wearing a mouthguard as protection. Even then, accidents happen. At OnCall Dental in Fresno, our emergency dentistry has you covered, from chipped teeth to toothache relief. No appointment is necessary; walk-ins are always welcome.